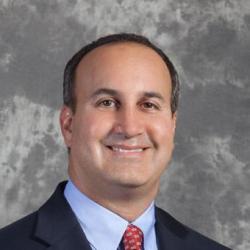 Hip, Joint Replacement, Knee, Shoulder, and Sports Medicine
Patient Reviews
The following are reviews from patients of Dr. Goldman.
"Got the job done with no problems. Things are going great after 3+ weeks."
"Dr. Goldman is very professional, and we're still working on my problem, and hopefully will be fixed shortly."
"Dr. Goldman was excellent as were the staff."
"Very professional, very pleased with the outcome."
"Dr. Goldman is an excellent professional, knowledgeable, and thorough."
"Dr. Goldman is professional and knowledgeable. In spite of that, the wait time is unpleasant. Someone should figure out better scheduling. It negatively affects one's overall experience."
"Professional, astute, efficient, personable overall all precise from appt scheduling to wait time was informed, appropriate, polite"
"Dr. Goldman listened to my concerns and offered possible solutions to pain experienced."
"Every time I see Dr. Goldman, he doesn't rush. Always would allow me to ask questions, makes you feel he cares. He has replaced both my hips. Every time he's professional, he doesn't rush you out!"
"The person designated as the pre-op point of contact not very responsive but everyone else was beautiful. Dr. Goldman is mellow and confidence-inspiring as was his PA Laura, who seems like she could be a surgeon herself. All the others were easy and pleasant. It's a hard procedure to recover from, but the staff made it as painless as possible."
"I was very apprehensive about having a total knee replacement fearing I might be off worse than before. Last year, Dr. Goldman did the surgery; I could put some weight on my knee the same night, and the healing and rehab went more smoothly than I could ever have imagined. I am very grateful to Dr. Goldman, and I would highly recommend him."
"Excellent, clear, precise and expeditious."
"Dr. Goldman performed TKR on both my knees. One surgery completed in February, and I had the other knee replaced in September. The results have been good Dr. Goldman, and all the staff was terrific in everything from presurgery questions to post-surgery visits."
"This amazing talented physician just revised my hip. Thought it would be harder to recuperate because I'm seven years older, but I did great!"
"I have seen Dr. Goldman many times in the past for arthritis in both of my knees. This time he diagnosed it as Bursitis and gave me an injection in that spot. I have always been delighted with Dr. Goldman's services and his assessment of my problems. I know from others and close friends of his skill relieving knee and hip issues. I highly recommend him."
"Excellent. Admire his straightforward explanation and answers."
"Identified and addressed the issue quickly and efficiently and explained the treatment thoroughly."
"Dr. Robert Goldman performed arthroscopic surgery on my torn meniscus. After I had seen several other orthopedic doctors for my very painful knee. I have had no problem with my knee since my surgery."
"My experience was outstanding from the first time I met with them. The respected my time and met me as scheduled. They diagnosed me quickly and offered several treatment options with details on each. Once I selected my treatment, they promptly planned my shoulder replacement, performed the procedure and provided the appropriate follow-up care. The moment the process was complete my pain was gone. I wish to thank them for their help."
"Comforting and reassuring."
"Dr. Goldman its been my doctor for 19 years and, He did surgery on my two shoulders and did a knee replacement on both knees and he did a great job. I'm pleased with his service!"
"I felt very relaxed, confident and comfortable with the doctor and his staff. They were very professional, courteous and caring."
"Great doctor and knows what he is doing. Very professional and straightforward."
"Dr. Goldman was very professional and attentive. He listened to my concerns and at the time of surgery as far as I could remember, he focused on providing me with his full attention and the full attention of all the staff that was in the operating room. He follows up with me in the recovery process and made sure all his team was doing their job. His staff followed up with me after I was home from the surgery to make sure all was well. I would recommend him for those that want a highly professional doctor that does not sugar coat the process and the amount of work that you need to do to have a successful surgery."
"Love Dr. Goldman fixed me up like brand new! Got an ACL transplant and after PT I was back to usual self! I recommend him to everyone I come in contact with that needs an orthopedist!"
– Mariangelaimmacolata F.
"I had my left hip replacement and my right. Both were hugely successful, and I am exercising, walking, playing golf now with no pain."
"My interaction with Dr. Goldman and his staff was excellent. Tri-County Orthopedics is the way to go."
"Ease of appointment, caring doctor with caring staff."
"He's very good. Get you right in and out."
"Dr. Goldman took his time with me and answered all my questions."
"Dr. Goldman was very good."
"Dr. Goldman answered all my questions clearly and did a good job administering the gel shots."
"Dr. Goldman is a great doctor. So happy he did my knee replacement. Pleased!"
"Provided professional guidance and confidence in care and decisions. The process and outcomes improved my optimism and recovery."
"Dr. Goldman is as excellent as I had heard he was from many sources. He has surrounded himself with a very professional team which reflects his superior care. I couldn't have asked for a better experience and am grateful for him he is an exceptional doctor."
"I got in quickly. Dr. Goldman saw the problem on an x-ray, and I am now scheduled for surgery."
"I have been a patient of Dr. Goldman's for a long time, first meeting him when he operated on my daughter when she was in high school back for a knee injury. He has treated my arthritis in both my knees through the years resulting in much-needed knee replacements, and now just replaced one of my hips. I am very happy with the treatment and his expertise and have recommended him to many of my friends and relatives. I have every confidence in him."
"Dr. Goldman is sharp and diagnoses quickly. I have confidence in him."
"Fast knowledgeable and efficient."
"I had excellent attention from Dr. Goldman."
"Dr. Goldman is very excellent and professional."
"Very satisfactory, professional, friendly and efficient. I have total confidence in the information I received. The only drawback was the schedule was quite a bit behind, but I expected it, so it was not a problem for me. I would rather know that I'm not being hurried through my appointment for the sake of keeping a schedule."
"Dr. Goldman was very thorough and to the point."
"Dr. Goldman was courteous and efficient."
"Very happy with the outcome of my hip replacement. Would not hesitate to refer anyone to Dr. Goldman. Thank you."
"Direct, bright and very helpful. I am interested in how to follow up to arrange to have my right hip replaced."
"The third time was having Dr. Goldman perform a procedure for me. Excellent outcome each time. Very professional!"
"Dr. Goldman is charming, excellent bedside manners. Dr. Goldman knows his job and how to take care of his patients. But most important Dr. Goldman knows the operational knee replacement procedures to get his patients back on their feet and walking again."
"Dr. Goldman was extremely helpful and professional giving me the time and precise answers. He gave me high confidence in going forward with my left hip replacement."
"Dr. Goldman and his staff kept in constant communication during the pre-op/post-op procedure, ensuring that I was fully aware of every step along the way. They were readily available to answer any inquiries, as well guide me through my recovery process."
"Dr. Goldman was thorough and very professional. I've had other cortisone injections in the past from other doctors, and Dr. Goldman was gentle, and the procedure was not painful. I will surely return, if necessary, to see Dr. Goldman."
"I had an excellent visit with Dr. Goldman."
"Dr. Goldman was very pleasant and informative."
"Dr. Goldman explained thoroughly what needed to be done and how he would perform the surgery. He answered all questions and considered our concerns when deciding what needed to be done. While I continue with exercises and rehab, I am not experiencing any problems and am pleased with the outcome."
"From the start, everyone I dealt with at Tri-County was professional, courteous and caring. Dr. Goldman explained the procedure fully. Since my surgery. I feel great. I forgot what it was like to walk without excruciating pain. I followed the PT Dr. Goldman prescribed and I could see my progress daily. I started walking 1/2 mile daily within a few weeks after my surgery. I now can take 2 mile walks without any problems and 4 miles on weekends. I'm back to my previous activities. Dr. Goldman did a fantastic job, and all my progress would have been wasted if I didn't follow the PT that Dr. Goldman prescribed. Thank you, Dr. Goldman!"
"Dr. Goldman was very good. I will be needing him for the left knee soon."
"I only have good things to say about my experience with Dr. Goldman and Tri County Orthopedics. From my first visit through to my last visit, everyone is so efficient and friendly and professional. They are well organized and the experience in Morristown Hospital was very good as well. The new Davino section of the hospital and the nursing staff are wonderful. They were really helpful and attentive and taught me some tricks to help get out of bed and use the bathroom. The whole experience has been enlightening. I am pleased with every aspect of my knee replacement and intend to go back after I'm healed to have the other knee replaced."
"My experience with my provider was positive. Dr. Goldman did an extensive exam and explained the reason I was still having pain in my operated hip. He was helpful in explaining the issues I have been experiencing and gave me options on how to resolve the pain. It was a positive visit."
"Doctor Goldman is the best!!!"
"I was always pleased with my treatment by Dr. Goldman. His expertise and efficient, but kindly manner were exactly what I looked for in a doctor. He always left me with the confidence that things would turnout well."
"Dr. Goldman and everyone did a great job."
"Dr. Goldman is a great doctor. So far my experience has been wonderful. I am working hard at physical therapy and god willing will have a full recovery and be pain free."
"Very efficient, got the procedure done quickly, addressed any rehab issues with physical therapy so fully healed now. Dr. Goldman and the staff were courteous and professional. The entire place runs like a well oiled machine."
"Just 3 months ago I had bi-lateral knee replacement by Dr. Goldman. It is now a few months later and I am playing golf. I couldn't have asked for a better, more artistic procedure. The scar is like a work of art. I am so happy with the outcome. Dr Goldman is indeed one of the best. Thank you so much!"
"Dr. Goldman was very efficient, thorough and understanding . I have had 7 orthopedic surgeries and this last one was with Tri County and was done exceptionally well!"
"Dr. Goldman was superb, very professional, and I felt that I was in good hands entering my knee replacement surgery! Trisha was excellent in scheduling, answering all questions, and she would immediately respond quickly to call backs! So five stars for her too! I would highly recommend Dr. Goldman for all of your orthopedic needs!"
"Dr. Goldman was informative and professional."
"I was ecstatically happy to be seen by Dr. Goldman at short notice. I was seen immediately upon arrival and x-rayed immediately. I was in and out, including my examination, in about 45 minutes. Much quicker than any other appointment in any other medical facility."
"Dr. Goldman is excellent, spends time listening to my questions and concerns. Extremely professional in a very kind way."
"Dr. Goldman answered all my questions. He was patient & did not rush me."
"Dr. Goldman was pleasant, very informative and listened."
"Dr. Goldman is thorough, listens well, and explains things well."
"Very good experience as usual with Dr. Goldman. I had an x-ray. He explained what he saw, gave me medication for 1 month and a prescription for physical therapy."
"I saw Dr Goldman in September for my chronic knee condition. We agreed to do the knee injections of hyaluronic acid for now before any knee replacement. We did the injections in October. I was pleasantly surprised to find that I did not have to have 3 injections per knee as I have had in the past. His technique to administer the injections was also a surprise from what I had experienced in the past. There was very little pain. So far my knees have been feeling fine. I am hoping these shots last awhile."
"I was very pleased with the entire experience. I had a total knee replacement and the procedure was explained thoroughly before the operation and expectations were set clearly. This allowed me to manage the rehab more effectively. I was very happy with Dr. Goldman and would refer him to any others in need of surgery. The entire office staff was very courteous and professional"
"Had knee replacement surgery done. Felt great and have nothing but praise for Dr. Goldman and his entire staff. Also, the hosp. stay, while short, was great. Every nurse, aide and PT's were extremely pleasant and professional. Had the other knee done last July and now walking and standing w/o pain. I thank everyone involved."
"I have been seeing Dr. Goldman for a number of years. He was my surgeon when I had a double knee replacement 7 years ago. I tell people that Dr. Goldman gave my life back to me. He ensured that I understood what the surgery would entail and what I could expect post surgery. I admire his clear explanations and feel he cares about his patients and their outcomes. My daughter, who lives out of state, was impressed that he took the time to call her, himself, after my surgery, to assure her all had gone well. I have recommended Dr. Goldman and Tri-County to a number of friends contemplating surgery. He's the best!"
"I went to see Dr. Goldman seeking second opinion in March,2016. I have come to him highly recommended by a colleague. I was anxious and just needed to trust someone about my knees and find a suitable solution to my problem. The fist thing that Dr. Goldman did for me was to ease my anxiety and explained that I have three options. I decided to go with option number 3, which was bilateral knee replacement. Now I wanted to be inform and take control of everything ahead of me. I know I'm not the typical patient because I work in healthcare, but I knew from the moment I met Dr. Goldman that I was in the right hands. After all I have spent the last 4 years with the debilitating pain and agony of severe arthritis in both knees and frankly I was at my breaking point. We decided on June 9th and Morristown Hospital will be the place to be for me. I received a package with instructions for all my pre-op tests but more important I was referred to a class that provided me with immense details about surgery, from what to bring to the hospital and what to expect after surgery. I still have one more surprise from Dr. Goldman; one day after surgery in a clear morning I was scheduled to have my dressings remove and I was really impressed to discover that no other but Dr. Goldman came on a Saturday morning to finish the job. I have no words to describe how good I felt knowing that this incredible orthopedic surgeon has come himself on this morning. Then it was recovery road and lots of hard work with physical therapy; but I knew by the time of my follow-up visit that I was on my way to full recovery. I know that a great man is only as great as the people around him, so I feel and I have to mention the incredible people in that office, the from front desk, the x-ray technician, the surgical scheduler and every one involved with the patients. I still remember my last appointment ,when Dr. Goldman told me it was not necessary to come back and I felt that I regained my freedom of mobility .Six months later I have only gratitude and my health to be thankful."